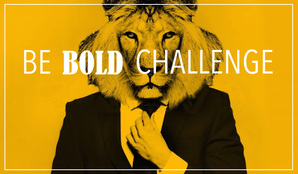 The devil prowls around LIKE a roaring lion seeking someone to devour. But our God IS the Lion of Judah. He does as He pleases. His plans will not be held back. And as His followers, those who are called by His name, we are to be BOLD as we live out and proclaim the Gospel message.
This year for Sunday School we want to be intentional about memorizing Scripture verses that have to do with our theme (being bold). There are thirty verses, which works out to be about one a week. Below is a list of the verses in the English Standard Version and the dates that we are going to memorize them by. We hope that you will join us on this journey!!!


BE BOLD CHALLENGE VERSES

Joshua 1:9 (September 20)
Have I not commanded you? Be strong and courageous. Do not be frightened, and do not be dismayed, for the Lord your God is with you wherever you go."

Psalm 27:1 (September 27)
The Lord is my light and my salvation; whom shall I fear? The Lord is the stronghold of my life; of whom shall I be afraid?

Psalm 138:3 (October 4)
On the day I called, you answered me; my strength of soul you increased.

Proverb 3:5-6 (October 11)
Trust in the Lord with all your heart, and do not lean on your own understanding. In all your ways acknowledge him, and he will make straight your paths.

Proverb 18:10 (October 18)
The name of the Lord is a strong tower; the righteous man runs into it and is safe.

Proverbs 28:1 (October 25)
The wicked flee when no one pursues, but the righteous are bold as a lion.

Isaiah 26:3 (November 1)
You keep him in perfect peace whose mind is stayed on you, because he trusts in you.

Matthew 10:28 (November 8)
And do not fear those who kill the body but cannot kill the soul. Rather fear him who can destroy both soul and body in hell.

Matthew 28:19 (November 15)
Go therefore and make disciples of all nations, baptizing them in the name of the Father and of the Son and of the Holy Spirit,

John 13:34 (November 22)
A new commandment I give to you, that you love one another: just as I have loved you, you also are to love one another.

John 14:26 (November 29)
But the Helper, the Holy Spirit, whom the Father will send in my name, he will teach you all things and bring to your remembrance all that I have said to you.

John 15:9 (December 6)
As the Father has loved me, so have I loved you. Abide in my love.

John 15:13 (December 13)
Greater love has no one than this, that someone lay down his life for his friends

Acts 4:13 (December 20)
Now when they saw the boldness of Peter and John, and perceived that they were uneducated, common men, they were astonished. And they recognized that they had been with Jesus.

December 27--No Sunday School

January 3—No Sunday School

Acts 4:31 (January 10)
And when they had prayed, the place in which they were gathered together was shaken, and they were all filled with the Holy Spirit and continued to speak the word of God with boldness.

January 17—No Sunday School (Annual Meeting)

Acts 20:27 (January 24)
For I did not shrink from declaring to you the whole counsel of God.

1 Corinthians 15:58 (January 31)
Therefore, my beloved brothers, be steadfast, immovable, always abounding in the work of the Lord, knowing that in the Lord your labor is not in vain.

Galatians 5:22-23 (February 7)
But the fruit of the Spirit is love, joy, peace, patience, kindness, goodness, faithfulness, gentleness, self-control; against such things there is no law.

Ephesians 4:11-12 (February 14)
And he gave the apostles, the prophets, the evangelists, the shepherds and teachers, to equip the saints for the work of ministry, for building up the body of Christ,

Ephesians 4:14-15 (February 21)
So that we may no longer be children, tossed to and fro by the waves and carried about by every wind of doctrine, by human cunning, by craftiness in deceitful schemes. Rather, speaking the truth in love, we are to grow up in every way into him who is the head, into Christ,

Philippians 1:20 (February 28)
As it is my eager expectation and hope that I will not be at all ashamed, but that with full courage now as always Christ will be honored in my body, whether by life or by death.

1 Timothy 2:5 (March 6)
For there is one God, and there is one mediator between God and men, the man Christ Jesus,

1 Timothy 6:10 (March 13)
For the love of money is a root of all kinds of evils. It is through this craving that some have wandered away from the faith and pierced themselves with many pangs.

2 Timothy 1:6-7 (March 20)
For this reason I remind you to fan into flame the gift of God, which is in you through the laying on of my hands, for God gave us a spirit not of fear but of power and love and self-control.

March 27—No Sunday School (Easter)

Hebrews 4:16 (April 3)
Let us then with confidence draw near to the throne of grace, that we may receive mercy and find grace to help in time of need.

Hebrews 13:6 (April 10)
So we can confidently say, "The Lord is my helper; I will not fear; what can man do to me?"

April 17—No Sunday School (Officers Brunch)

1 John 2:28 (April 24)
And now, little children, abide in him, so that when he appears we may have confidence and not shrink from him in shame at his coming.

1 John 3:18 (May 1)
Little children, let us not love in word or talk but in deed and in truth.

May 8—No Sunday School (Mother's Day)

1 John 5:14 (May 15)
And this is the confidence that we have toward him, that if we ask anything according to his will he hears us.
​
1 Peter 5:8 (May 22)
Be sober-minded; be watchful. Your adversary the devil prowls around like a roaring lion, seeking someone to devour.