BUILDING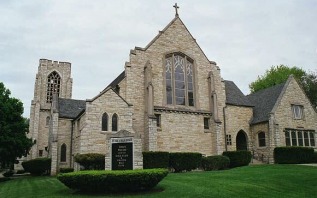 St. Paul's
Bible
Church, as it stands now, at the corner of 94th and Winchester Streets.
Sanctuary - Center; Kindergarten Sunday School Room - Right
Original Pastors Study - Near Left;
Bell
Tower
- Far Left

Stained Glass Windows
The first seven windows form a series of the episodes in the life of Jesus.


The bottom four windows are devoted to symbolism referring to the Four Major Profits, with scrolls bearing inscriptions.
Bell Tower