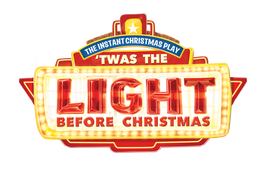 ST. PAUL'S BIBLE CHURCH INVITES EVERYONE TO 'TWAS THE LIGHT BEFORE CHRISTMAS

A fun "instant" Christmas play will be hosted at St. Paul's Bible Church on Sunday, December 13th. This two-hour, rehearsal-to-cast-party adventure provides a Christmas celebration for everyone as we rehearse a simple song, create a keepsake prop, and experience that Jesus is the true light of the world. Guests will enjoy fun crafts, delightful music, and a hilarious, engaging play - all while celebrating Jesus' birth in a new and refreshing way.

Come and experience this wacky adventure together, discovering that Jesus is the light of the world. This would be a great event to invite a friend to.

'Twas the Light Before Christmas takes place from 5:00pm to 7:00pm on Sunday, December 13th.